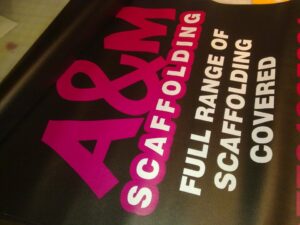 PVC banners are suitable for indoor or outdoor use. They can be made to any size and can have a variety of fixing options to suit how and where they are to be displayed.
Banners can be designed to be viewed from one side only (single sided) or double sided so the design can be viewed from either side. Double sided banners are thicker material and have a light proof layer incorporated.
Finishing
The finished banner can be produced with the following:
Eyelets – small metal rings around the edge of the banner to allow rope, clips or bungee chord to be attached.
Pole Pockets – these are loops made from the banner material which is folded over and stitched in place. Pole pockets are placed at the top and bottom of the banner, usually for scaffolding poles to be slid through to fix in place.
Hems – banners can be hemmed before adding eyelets which will add extra strength for outdoor installations.
Printing
Most banners are printed using large format digital printers. The inks are solvent based so the designs will be durable enough for outdoor use.
Cut vinyl can also be applied to banners. This can be removed by being heated so can be changed if needed, for instance to change the date of an event.
Banners are easy to install and when not in use can be rolled up to save space when stored.
If you would like to find out more about banners to suit your needs,
contact us today
.